---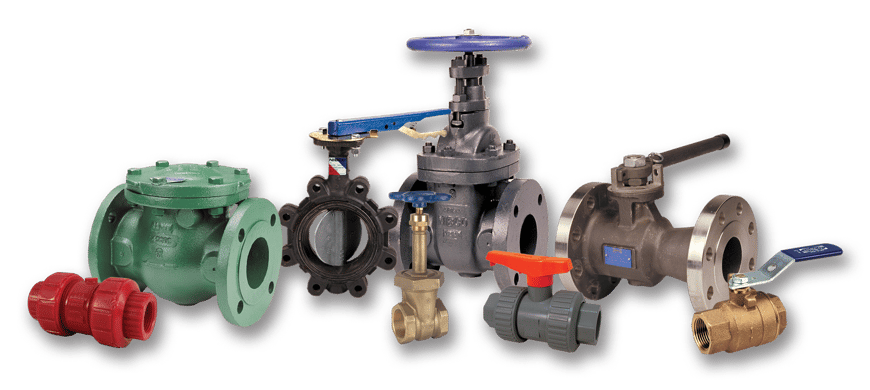 NIBCO manufactures high-quality industrial valves, actuation and controls that are sure to meet your expectations for performance, reliability and on-time delivery. With domestic manufacturing and distribution venters, we produce a full range of standard and custom-order valves for industrial, commercial and fire protection applications. Plus, you can count on real-time service and personal attention from our team of technical and customer service representatives and factory-direct sales group.

---
NIBCO Carbon and Stainless Steel Ball Valves
Flanged, Threaded, Socket and Butt Weld End Valves
Pressure Ratings to 2000 psi
Flanged Valves ANSI Class 150 and 300
Flanged Valves are API607 Fire Safe
Exposed Bolt and Enclosed Bolt 3-Piece Design
Pneumatic and Electric Actuation Available
Sizes Range from 1/4" through 12"
---
NIBCO Butterfly Valves (Resilient Seat

and High Performance)
Multiple Seat Materials, EPDM, BUNA FKM
MSS SP-67, UL, FM, ABS, Coast Guard and NSF Lead-Free*
Rubber Lined Valves to 285 psi (Class 150)
316 Stainless Steel Disc and Stem
Class 150 and 300 High Performance
RPTFE Seats Standard in HPBFV
Bi-Directional Dead End Service
---
NIBCO Bronze Ball Valves
Solder, Threaded or Press End
Operating pressure up to 1,000 CWP
250 psi Steam Service Available
316 Stainless Steel Trim
316 Stainless Externals Available
MSS SP-110
---
NIBCO Bronze Pressure Rated Valves
Manufactured in Nacogdoches, Texas
Solder or Threaded End
Class 125, 150, 200 and 300
Gate, Globe and Check Valves
Steel Seat and Disc for High Pressure Steam
Size Range 1/4" through 3"
Conforms to MSS SP-80
---
NIBCO Iron Pressure Rated Valves
Manufactured in Blytheville, Arkansas
Class 125, 150 and 250
Gate, Globe and Check Valves
Size Range from 2" through 24"
Bronze and Steel Trim Options
Cast Gray Iron, Ductile Iron and 3% Nickel Iron
F869B Class 250, Automatic Stop Check
---
NIBCO Fire Protection Valves
Bronze, Iron and Resilient Wedge Valves
Gate, Check, Butterfly and Ball Valves
Threaded, Flanged, Grooved and Mechanical Joint
UL and FM Listed and Approved
Upright and Ground Indicator Posts
---
NIBCO Actuation
Rack and Pinion Style Pneumatic Actuators
Double Acting or Spring Return
Torque Range from 166 to 38,000 inch/lbs.
Electric Actuators (NEMA4, 4X, 7), Series 300, 500 and 800
Switch Boxes, Positioners, 4-20ma Control
---
Chemtrol Valves
Made in Charlestown, Indiana
Corrosion Resistant PVC, CPVC, Kynar® and Polypropylene
Butterfly, True Union Ball and Check Valves
Excellent Chemical Resistance with PTFE and FKM Seats
1/2" to 2" True Union Ball Valves Rated 250psi at 73°F
Pneumatic and Electric Actuation Available
---
Flow control products from NIBCO will meet your specifications every time. With manufacturing facilities located throughout the United States, Mexico and Poland, NIBCO serves a global marketplace.
For more informative posts from NIBCO, check out the links below!
---
*Weighted average lead content less than or equal to 0.25%
Kynar® is a registered trademark of Arkema Inc.