"Driving Customer Productivity"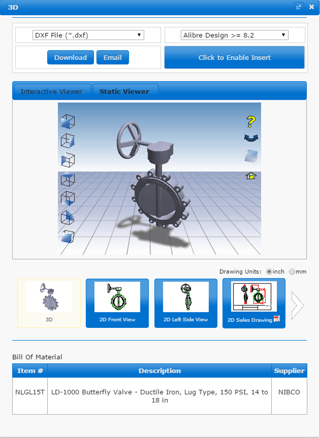 NIBCO has been investing to deliver a best-in-class online customer experience to design professionals and fabricators who want to discover and select NIBCO products that meet their requirements.
Most importantly, NIBCO is focused on delivering a broad variety of CAD and BIM content to help customers easily design and specify plumbing and HVAC systems in whatever software tool they are using. Providing clients with the right formats for Design, Fabrication and Construction, all generated in real-time from our master product database, allows our customers to be confident in their selection of NIBCO products.
The ability to deliver light-weight and fully functional BIM files directly from our live database sets us apart from our competition who still rely on static, pre-created Revit files that are often years out of date. High quality and current product data, in multiple formats, available on-demand is the NIBCO difference.
What is BIM?
BIM stands for Building Information Modeling. BIM is an intelligent 3D model-based process that equips architecture, engineering, and construction professionals with the insight and tools to more efficiently plan, design, construct, and manage buildings and infrastructure.
BIM vs CAD Files: What's the Difference?
Many people mistake a BIM file as simply a 3D CAD file however, BIM files and CAD files serve unique industries and involve different software tools utilized by their users. The main difference is that a BIM file includes key performance characteristics, specifications and connections that are important to building design and construction.
What software platforms do NIBCO BIM files support?
Our dynamic CAD and BIM eCatalog allows customers to download more than 25 formats of CAD and BIM files all generated on demand from the most up-to-date product specifications. RevitMEP for design and AutoCAD, and CADmep for fabrication are all available for immediate download directly into your project.
What information is included in a BIM object?
3D BIM modeling data represents not only the products physical characteristics but also its features, functions, and performance.
What makes the NIBCO CAD/BIM eCatalog different from everyone else?
Instead of static models NIBCO uses a database approach to create a master library of critical geometry and specification details that can be centrally maintained. Every download by an end user is dynamically generated from this up-to-date data, ensuring customers get the most accurate models and specs, every time.
See what makes our dynamic BIM catalog better