---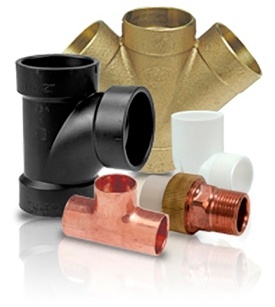 NIBCO has a full range of fittings--from metal and plastic to press and push-to-connect--to meet your application's needs. Whether your flow-control system application is industrial, commercial, mechanical, fire protection or residential, NIBCO plumbing fittings are available in a broad range of sizes. Keep reading to learn more.

---

Metal Fittings
Wide range of sizes
Pressure and drain, waste and vent selection
Cleaned and bagged for oxygen service (medical gas) available
Dezincification-resistant
For residential, commercial plumbing and HVAC systems

Plastic Fittings
Will not rust, scale, pit or corrode
Wide range of sizes
Available in ABS-DWV, PVC-DWV, PVC Schedule 40, CPVC-CTS
Lightweight
Cost-effective
Press Fittings
Dezincification-resistant
Lead-free* available
No flame, solder or flux
User-friendly, easy to install
Copper and copper alloy
System also includes valves, tools, jaws and chains
Industry-best warranty of 50 years
Wrot fittings made in the USA from 100% North American pure copper
Straight piping runs without deflection on large and small diameter fittings
Wide range of sizes
Wrot Racer® Push-to-Connect Fittings
Engineered to join copper, CPVC-CTS, PEX and PE-RT (with stiffeners)

Manufactured of 99.9% pure U.S. made wrot copper
Available in 1/2" to 2" sizes
Naturally lead free, zero dezincification
Can be installed wet or dry
Ideal for tight-space installations
Can be removed and reused, to avoid wasted materials
Push-to-Connect Fittings
Choose from adapters, caps, couplings, elbows and tees
Simple and secure connection with no soldering, crimping or joining materials
Can be joined with copper, CPVC-CTS, PE-RT or PEX
Dezincification-resistant
Lead-free*
Wide range of sizes
---
The extensive line of NIBCO fittings represents a history of innovation and quality engineering. The promise of quality is backed by the NIBCO warranty, customer service expertise, specification and selection assistance.
Check out these other informative blog posts by NIBCO: