---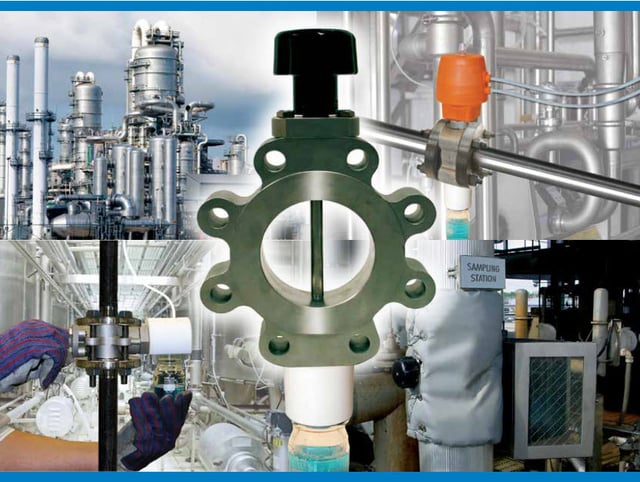 Businesses today sample process liquids in process piping systems for a variety of reasons, including to:
Assess the quality of the process being measured (metrics typically measured include purity, temperature, color, density and clarity)
Refine or verify the process procedures
Capture a true, clean, representative sample
Provide operator safety and limit operator exposure
Reduces fugitive emissions
Process sampling has been done for many years, but only within the last decade have valve manufacturers designed improved process systems to the point where they are able to meet increasingly sophisticated sampling requirements.

---
Advancements made to today's modern sampling devices are due to requirements of the Occupational Safety and Health Administration
(OSHA) and the Environmental Protection Agency (EPA), as well as in response to increasing plant efficiencies and environmental and worker safety concerns.
As you consider which sampling method best meets your specific sampling requirements - ask yourself the following:
Why is the media being sampled?
What type of media is being sampled? (i.e. liquid, powder, slurry)
What are the properties of the media? (i.e. corrosive, hazardous, flammable, carcinogenic)
Where in the process is the sample being taken?
How often are samples taken?
What is the viscosity of the media? Are solids present?
Does the media crystallize?
Will the sample be taken from a pipeline or a vessel?
---
The following list describes different handle options NIBCO Sure Seal Sampling Valves have to make your next project a success. Don't forget to check the NIBCO blog often for more upcoming posts on why you should choose NIBCO Sure Seal Sampling Valves!
---

KNOB HANDLE
Ideal for applications requiring tight/concise liquid control
Ergonomic, non-slip grip
Durable, lightweight nylon-encased stainless steel knob handle
---

SAFETY SPRING-TO-CLOSE HANDLE
Ideal for applications where the safety assurance of an automatic shut-off is desired
Release of safety "spring-to-close" handle shuts off flow automatically
Lock-out handle comes standard
---

PNEUMATIC ACTUATOR
Provides automated control and allows for sampling at designated, regularly scheduled times
Isolates operator from sample process liquid to ensure worker safety
---
NIBCO specializes in the design and manufacture of industrial valves and components for any application requiring the safe and efficient processing, movement, control and storage of liquid materials. Sure Seal products are used in the chemical, food processing, pulp and paper, waste water, high-purity liquids, brewery, steel processing, marine barge, ship building, dry bulk transportation, and pharmaceutical industries, among others.
Known around the world for their quality, reliability and exceptional performance, NIBCO Sure Seal products include: butterfly valves, lined ball valves, actuators, high-purity butterfly valves, sample valves and sanitary valves.
Check out some other informational blog posts by NIBCO:
---