---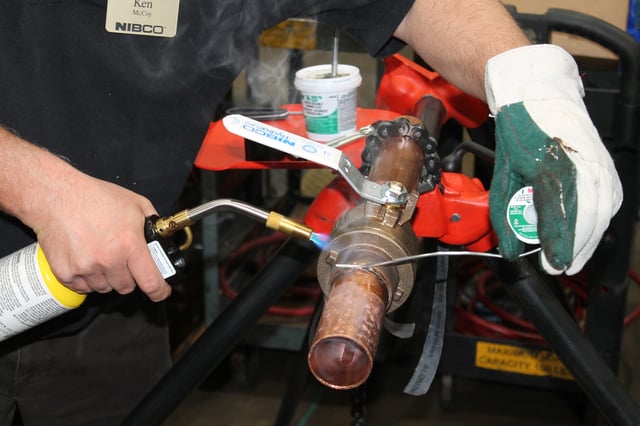 This year the NIBCO Plumbing Institute expanded, offering two types of schools: the Valve School and Copper Joinery School. At these informative training sessions, attendees were able to learn about valve basics, the difference in joinery methods like press and soldering, as well as experience what makes NIBCO the industry expert.

---
The NIBCO Valve School
NIBCO has worked tirelessly to not only create the most reliable products, but provide users with knowledge about those products. The NIBCO Valve School, an idea dating all the way back to the 70's and revitalized in 2013 for an interactive, hands-on classroom environment, has been designed to give comprehensive overviews on different valve types. The school, held at the NIBCO Blytheville, Ark. plant, explains foundry and valve basics from NIBCO experts and includes a plant tour.
2017 attendees describe the event as being helpful and informative to those of all levels of experience. Following this year's success, NIBCO plans to add additional dates to keep up with the school's demand.
---
The NIBCO Copper Joinery School
The newest addition to the NIBCO Plumbing Institute, the Copper Joinery School, offers attendees the chance to experience first-hand how to join copper through various methods and tools. Activities include:
Assembling the NIBCO® Press System®
Soldering lead-free joints
Performing simple repairs with NIBCO® Push fittings
The NIBCO Copper Joinery School, based at the NIBCO Stuarts Draft, Va. plant, also held training dates in Denver, Co. during 2017. This newest training is a source of great excitement at NIBCO because it comprehensively covers copper joinery methods and gives users the chance to see for themselves how press can make installations up to 95% faster than solder, and how quick and easy fixing a burst pipe, or installing a water heater can be when using Push fittings.
---
With the success of these helpful and informative trainings, NIBCO looks to add additional schools to the NIBCO Plumbing Institute in the coming years, and is excited to watch these trainings continue to grow. If you are interested in learning more about the NIBCO Plumbing Institute, contact your sales representative today.
Want more posts from NIBCO? View these helpful blog posts:
---