---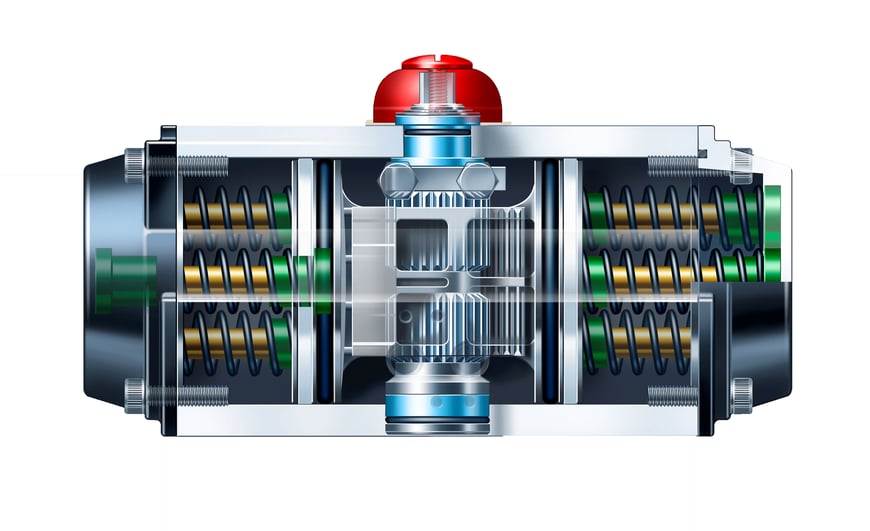 NIBCO Sure Seal offers pneumatic actuation rack and pinion actuation solutions worldwide. Our ST-Series Pneumatic Actuators feature a new standard for reliable, long service-life performance. Keep reading for features and benefits of the NIBCO ST-Series Pneumatic Actuators.
---

Improved Travel Stop Design
The improved travel stop design allows the actuator to stop off the pinion rather than the pistons. A standard actuator will have 100 degrees of travel with +5 or -5 degrees of adjustment on the open and close stop. The forged steel travel stop can be machined to any length of travel.
---

Upgraded Top Hat Thrust Bearing Design
The upgraded top hat thrust bearing design provides the largest pinion bearing surface in the industry. This upgraded thrust bearing limits friction between the actuator body and pinion, increases durability by absorbing side-load forces and extends the cycle life of pinion O-rings.
---

Increased Tooth Engagement
The increased tooth engagement enables consistent torque output and accuracy. A minimum of two teeth are engaged at all times during the stroke.
---

New High-Performance Options Available
Several new options are available to proved the level of corrosion protection needed for the required application. Whether your application is pharmaceutical, food and beverage, oil and gas, refining, marine or chemical processing, our standard and optional coatings will ensure reliable performance.
View more helpful blog posts like this by NIBCO:
---