---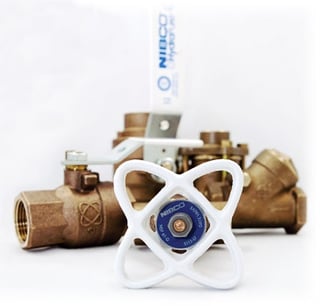 For over two decades, NIBCO has been at the forefront of development and commercialization of lead-free plumbing products, and currently manufactures a vast collection of lead-free valves, fittings and flanges. The HydraPure® line is manufactured from the silicon-based Performance Bronze™ alloy, which exhibits mechanical properties far exceeding traditional plumbing alloys. Vision and experience have enabled NIBCO to stay ahead of regulations, ahead of the industry – and AHEAD OF THE FLOW®. Continue reading to learn about the silicon-based Performance Bronze alloy NIBCO uses, and how competing alloys like Bismuth stack up against each other.
---
BISMUTH ALLOY
NIBCO discovered first hand that replacing lead with bismuth and other constituents not only affects manufacturability and product installation, but also service life in a negative way. Similar alloys, including the copper-bismuth alloys C89833 and C89836, are still unfortunately being used by many plumbing valve and fitting manufacturers today. Here are some facts about bismuth alloys:
Bismuth alloys are susceptible to cracking during:

Manufacture

Solder installation (cannot be brazed)

Service exposure

Extremely brittle
Melting point is 520.7 degrees farenheight
Bismuth alloys have been unproven for long term use.
For these reasons, among others, rather than merely settling on a lead-free copper bismuth alloy, NIBCO chose to focus on the high quality, silicon-based Performance Bronze family of copper alloys: C87600, C87850 and C69300. In 2009, NIBCO launched a new generation of HydraPure silicon Performance Bronze valves, fittings, and flanges in compliance with changing lead-free plumbing requirements.
SILICON ALLOY: The NIBCO Choice
Physical properties far exceed traditional plumbing alloys containing lead.
Maintains strength during:

Manufacture
Solder or braze installation
Service exposure

Adds significant strength to copper alloys

Melting point is 2,572 degrees farenheight
Silicon vs. bismuth bronze at 350 degrees farenheight:
Silicon ultimate tensile strength (psi) = 3.3x stronger
Silicon yield strength (psi) = 1.8x stronger
Silicon elongation (%) = 4.7x
Silicon alloys have been proven through decades of successful use.
---
Bismuth, a by-product of lead mining, may not currently be considered in the same category as lead in terms of research regarding potential health hazards, though NSF International did publish action levels in 1995 limiting the maximum allowable concentration of bismuth in a single product. In contrast, it should be noted that silicon is NOT a regulated substance and there is no published information indicating that silicon may pose drinking water health effects. For more information, visit our Lead-Free Database or contact a sales representative near you!
Check out other great blog posts by NIBCO:
---
*Weighted average lead content less than or equal to 0.25%