---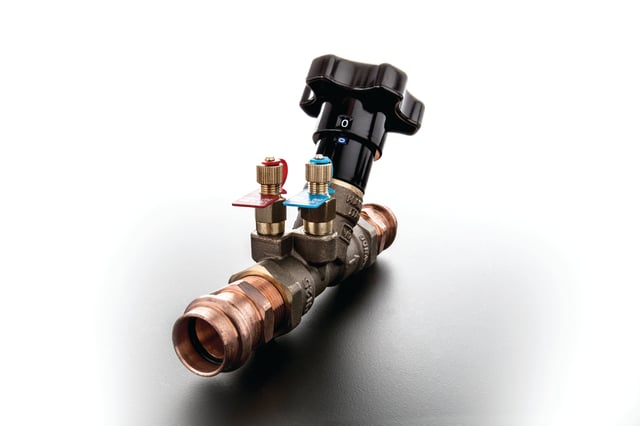 The new NIBCO® FLO-BOSS line of balancing valves now includes factory assembled Press ends, giving you a safer, faster alternative to soldering. Without the need to flux, flame, or solder, Press saves time on every connection, which adds up to hours, even days saved on a job. It's quick and simple to install, with efficient tools that are easy to learn. Fire hazards are no longer present. You can fix pipe even while water is still running. And, with fewer compenents to work with, consistent connections, and leak detection technology, every connection has a clean, permanent, watertight seal.

---
Factory Assembled
FLO-BOSS Press end connections are factory assembled and tested before being sent out. All FLO-BOSS items are individually bagged and tagged per your job site requirements, and are dezincification-resistant for long-lasting, corrosion-free performance.
---
Safe and Quick Installation
Flame, flux, and solder create many installation complexities like fire hazards and noxious fumes. They also require a dry piping system and fire-watchers. With Press ends, fire hazards and fumes are no longer an issue, installations can be wet or dry, and there is no need for fire-watchers, saving you time and money. Consistent mechanical connections can be achieved easily with tools that make the task simple and more efficient.
---
The NIBCO® Advantage
When you work with NIBCO products, you get nothing less than dependability. Since introducing the first practical copper fitting in 1927, NIBCO has played an important rolw in joinery evolution and industry advances. Owners of the broadest selection of North American-made products in the industry, you can trust us for up-to-date CAD/BIM files for every part, and in more than 25 formats. Rely on us for quicker speed-to-market times. And, as with all NIBCO solutions, count on us for on-site support and training, plus expert assistance on how to spec your system and get catalogs and submittals.
---
Year after year you can depend on NIBCO. You'll see us on the job site, talking to our partners so we can give them our best. We are continually investing in the research and engineering of new products and technology, so that whatever the job, you have the right solution. In the end, it's all so you can stay ahead of the flow.
Want to learn more? Check out a few of our other blog posts:
---