---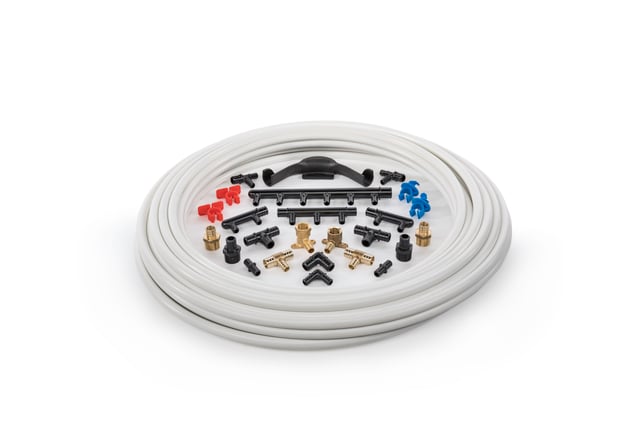 PE-RT is the next step in flexible tubing, offering many benefits than other products. Keep reading for frequently asked questions about PE-RT tubing.
---
What is PE-RT?
PE-RT = Polyethylene Raised Temperature. Made from high density polyethylene (HDPE), PE-RT is designed for raised temperature applications.
What is PE-RT for?
Potable water
Radiant heating with oxygen barrier layer
Where did it come from?
Resin made by DOW Chemical which has been popular in Europe for decades.
How do you join it?
The dimensions of the tubing are the same as PEX, enabling the use of the same fittings, joiners, and tools.
Is it easy to install?
PE-RT is more flexible!
Is it approved?
PE-RT is approved in all model plumbing codes as of 2015, but not adopted everywhere yet.
How does it compare in performance to PEX?
Equivalent ASTM standards
PE-RT is even stronger, bursts at higher pressure levels than PEX
How does it compare pricewise to PEX?
PE-RT is more economical.
Is it green?
PE-RT is 100% recyclable, uses less energy to make, and has a smaller carbon footprint.

---
Find your fit with NIBCO PERTpro, the next evolutionary step in flexible tubing that gives you everything you expect from PEX, but so much more. With NIBCO PERTpro, you aren't just buying a name, you are buying a reputation that stands for value, industry knowledge, decades of experience, availability, and best-in-class service. For more information, find your local NIBCO sales representative today!
Check out more informational posts from NIBCO:
---