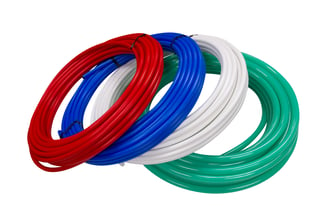 Introducing NIBCO® PERTpro™: the next evolutionary step in flexible piping. A unique combination of flexibility, economy, lack of coil set, tight dimensional tolerance, and on-time delivery makes NIBCO PERTpro the plumbing professional's first choice for potable water distribution and radiant heating. NIBCO offers a full PE-RT system, as PERTpro can be used with NIBCO poly or bronze insert fittings and crimp rings, crimp sleeves or stainless steel sleeves.
---
NIBCO PERTpro is stronger at hydrostatic pressure, has a lower carbon footprint, is 100% recyclable, and creates a seamless transition from PEX because it uses the same fittings, tools, and joining devices (copper crimp ring, copper crimp sleeve, or stainless steel sleeve).

PERTpro FOR POTABLE WATER
• Colors: Red, white, and blue colors
• Size range: 1/4" to 11/4"
• Available in 20' sticks and coils from 100' to 500'
• Listed by IAPMO (UPC) for the same pressures and temperatures as PEX
• Found in all model plumbing codes and accepted in 43 states and growing
BARRIER PERTpro
Barrier PE-RT for hydronics offers a distinct advantage over barrier PEX: it is more flexible. This means installers will find it better for making the floor loops common in radiant heating. Barrier PERTpro is green in color identifying it as the environmentally-friendly choice for hydronics. Radiant heating is not only a more comfortable heat, it is a green choice since radiant heating is more efficient than traditional forced air.
• Color: Green
• Size range: 1/2" to 1"
• Available in 20' sticks and coils from 100' to 1,200'
• Listed by IAPMO (UPC) for radiant heating applications
• Found in all model mechanical codes and accepted in 48 states (KS and HI)
---
For more information on NIBCO PERTpro, contact the Customer Service department toll-free at 800.234.0227 or talk to a sales representative in your area today!
Here are some other blog posts from NIBCO that you might be interested in:
---