---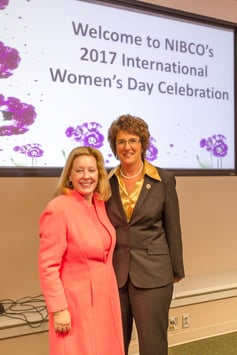 On March 13, 2017, NIBCO invited Jackie Walorski, U.S. Representative for Indiana's 2nd congressional district, to speak on behalf of this year's International Women's Day. Representative Walorski's speech included inspirational advice on making an impact in the community and reminded NIBCO associates that it only takes a single voice to make change happen.
Of the 128 NIBCO associates who attended, many described the event to be impactful because of the way Congresswoman Walorski encouraged the group to pursue their own passions. In her words: "It only takes one person to make a difference."
NIBCO celebrates International Women's Day annually with a company catered lunch, guest speaker, and awards ceremony.
---

---
Founded in 1904, NIBCO INC. is a leading provider of valves, fittings and flow control products for commercial, industrial and institutional construction as well as residential and irrigation markets. NIBCO is headquartered in Elkhart, IN, and has 11 manufacturing plants located throughout the United States, Mexico and Poland.
Can't get enough of NIBCO?
---